At this point, there's no denying that solar is one of the cleanest options for power available. Harnessing the sun to generate electricity is not only clean and good for the environment, but it's excellent for your wallet as well.
To enjoy all of those benefits, you'll need to get yourself a solar generator, and you'll need one that's the correct size. After all, you don't want to end up with a solar generator that's so small, you won't get enough power out of it. 
On the other hand, you don't want to invest in an oversized solar generator that provides you with more electricity than you'll ever need.
This buyer's guide is going to help you do just that. Here, we'll cover everything you need to know to choose the right-sized solar generator to suit your needs. Keep reading until the end, because we've also got a few product recommendations that you're going to love!
Let's get started.
What Is A Solar Generator?
First of all, there's one thing that we need to clarify. What is a 'solar generator' exactly? That term is most often used to describe something that provides a supply of electrical power, which it creates using direct sunlight. The term 'solar generator' includes the solar panels, solar charge controller, solar battery, and inverter.
So, when it comes to determining the right-sized solar generator to fulfill your needs, you're not just assessing a single component. Instead, you're taking the sizes of several pieces into consideration as part of a bigger picture.
For more information on using solar with generators, check out: Can You Use a Generator With Solar Panels? We Find Out
How To Select The Right Sized Solar Generator
Before you decide on a solar generator, there are a few crucial questions that you need to ask yourself first. These questions revolve around power usage, battery capacity, charge time, as well as ports and additional features you'd require from your solar generator.
By answering these questions, you'll develop an in-depth understanding of your solar power needs. That will lead to better buying decisions when you start shopping for a solar generator online or in-person.
So, let's take a closer look at each one of those criteria.
Speaking of size, if you're curious about the sizes of residential solar panels, click on this link: What Size Are Residential Solar Panels? Let's Find Out
Power Usage
"How much power do you expect to use on a daily basis?"
Before you begin shopping for the right-sized solar generator, it would be an excellent idea to measure your power needs first. That's the same whether you're getting a solar generator to power your entire home or a portable one for camping.
Simply put, what you need to do is ask yourself how much power you think you'll use on an average day, the answer to which is measured in watts. 
Here's one way that you can figure that out.
Firstly, get a pen and paper or open up a spreadsheet on your computer. Then, in one column, list down every single item you have that consumes electricity. Don't worry about the wattages of each item; we'll get to the numbers soon enough. If you're buying a solar generator for camping or for your RV, then that should be a relatively short list.
As you do this, it's crucial to not only list down large appliances like refrigerators or televisions. However, that's an excellent place to start.
Once you've listed them down, start to look at the smaller items like chargers for your phone and laptop, as well as lighting fixtures.
Suppose you have a full list of items, and you're confident that you didn't miss anything out. Now, it's time to figure out how much each thing uses.
Start by figuring out the wattage of each item. You can do this by:
Looking at the labels printed behind or under the appliance, if it has one.
Referring to the user manual or technical sheet that came with the appliance.
Checking online by searching for the exact model number of the appliance.
Checking online for average wattage (e.g. for lightbulbs).
Now, the wattage will tell you how much energy the appliance uses, but it's not an accurate reflection of how much you'll need. To do that, you'll need to calculate the kilowatt-hour number on each item.
Don't worry! There's no need for complicated math here, so let's keep things simple. All you have to do is perform a Google search for energy consumption or kilowatt-hour calculators (there are plenty out there). With any of those, you'll just need to key in details such as:
The wattage which you identified earlier.
How many hours you plan on using each appliance throughout the day.
Add up all the numbers, and you'll know exactly how much energy you need from your solar generator every day!
Curious what happens to all that unused solar energy, read: What Happens To Unused Generated Solar Power?
Battery Capacity
"How much battery capacity will be enough for nighttime and as a backup?"
Once you understand your energy needs, the next thing you'll need to consider is the size of your solar generator's battery capacity.
As you may already know, solar generators typically include a single battery or a battery array (i.e. several batteries connected together). Still, many people overlook the importance of sizing this part of the generator correctly.
Remember: you'll have plenty of electricity when the sun is shining brightly onto your solar panels. But what about when there are clouds in the sky, and your solar panels aren't generating much electricity? Or worse yet, what about when the sun goes down, and you still need to run appliances at night?
For both of these scenarios, you'll need to ensure that you're getting a solar generator with enough battery capacity. Here's what you need to do:
Take note of your average daily usage, as discussed in the previous section of this article.
Decide how long (in hours or days) you'd like to be able to power your appliances, assuming your solar panels weren't receiving direct sunlight.
Keep those numbers in mind when shopping for a solar generator, and make sure that the battery capacity is sufficient for your needs.
At a minimum, you'll need enough battery capacity to last you overnight. However, many people prefer investing in additional battery capacity to last them for days, just in case they're not able to recharge those batteries for extended periods. An excellent example of this would be during moments of natural disasters or similar difficulties.
There is no right or wrong answer here, as everyone has their own needs and preferences. So, go with what feels right for your situation!
Charge Time
"How long does it take to charge the solar generator's batteries?"
At this point, you already know how much energy you need day-to-day, and you also know how much battery capacity you want to have for night-time and backup use. All of that is well and good, but we've only been discussing energy usages or outputs so far. What about the 'input' side of that equation?
By that, what we're referring to is the charging capabilities of your solar generator. Think about it: having a large battery capacity is of no use if you're not able to charge it all the way up while the sun is still shining!
Some manufacturers will claim that their products can 'trickle charge' the batteries when it comes to some solar generators. That means that while you're using your appliances (and draining the battery), the solar panels will still charge the batteries up simultaneously. 
Unfortunately, trickle-charging isn't always efficient enough to fill up your batteries while you're actively draining them to power your appliances. So, it would be best not to rely on it when you're calculating the charge times for your solar generator.
The charge time basically refers to how long it'll take for your solar generator to fully recharge its batteries. Your goal here is to choose a solar generator that can charge its batteries up with the amount of daily sunlight you can expect to get at your location. Doing that will depend on two components in particular: your solar panels and the batteries themselves.
Solar Panels: Here, the concern is in the solar panels' size and quantity connected to your solar generator. Simply put, the more panels you have capturing sunlight at any given time, the more power you'll have to charge up your batteries with!
Of course, the number of solar panels you have will depend on several factors such as your budget and the available space you have to mount them correctly.
Solar Batteries: Solar batteries also have different Maximum Trickle Charge Rates (measured by watts per hour). You may have plenty of electricity being generated by your solar panels. Still, your battery's Maximum Trickle Charge Rate will determine how fast it gets stored for later.
What determines the charge rate? The materials used to make the battery in your solar charger, such as lithium-ion, lead-acid, and much more.
Additional Features
Finding the right-sized solar generator isn't the end of the process. These days, you see many excellent manufacturers producing high-quality solar generators and at the sizes that you require. What sets them apart from one another? Their additional features!
When shopping for your perfect solar generator, you'll want to consider three types of additional features in particular: the power outlets, any digital displays or indicators, as well as the ability to expand your solar power system in the future.
Let's take a closer look at each of those three elements.
Power Outlets – Suppose you've found yourself the perfect-sized solar generator. If that's the case, now you'll need to connect your appliances to it so that you can enjoy all that solar power goodness!
However, if there aren't enough power outlets on the solar generator, you're going to have a bad time. Sure, you can (and probably will) depend on trailing sockets or extension plugs. But still, using too many of those could cause an excessive draw of power on your solar generator and cause problems.
To prevent this, you'll need to ensure that the solar generator you buy also has a sufficient number of power outlets available for your needs in particular. Also, you'll need to make sure that those outlets have the correct power ratings for the things that you'll connect to them.
Besides that, solar generators these days also come with one or more USB ports! That makes it much easier for you to power or charge small devices like your smartphone and tablet. You could even plug in a USB fan to keep yourself cool if you'd like!
Digital Displays Or Indicators – Okay, so this one isn't a critical feature to look out for. Still, it's more a matter of personal preference. Solar generators tend to come with digital displays of some sort, which provide you with critical pieces of information. They include how much energy is left and perhaps even how much energy you're currently using.
While some models may only have simple, straightforward displays, others may have programmable ones that include warning indicators. That way, if any problems are going on with the solar generator, these indicators will give you a heads up.
Ability To Expand – Lastly, it would also be wise to consider your current solar power needs and that of the future. Some solar generators offer the ability to expand by adding additional solar panels and battery capacity when you need to.
That might not seem like a necessity now, but the ability to expand could come in handy later on when your power needs change. If that day ever comes, you can simply invest in expanding the solar generator's capabilities with more solar panels or a better battery, rather than purchasing a whole new generator altogether.
Recommended Products
Now that we've explored how to select the right sized solar generator for your needs let's take a look at a few popular options for solar generators on the market today. In this list, we're going to show you two examples of compact and easy-to-carry solar generators weighing under 10 pounds, followed by one high-capacity unit if you're looking for something a bit more heavy-duty.
Tacklife 500Wh Portable Power Station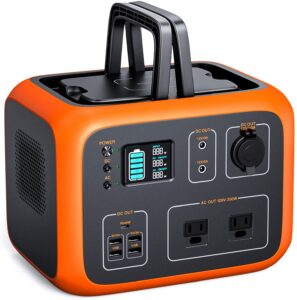 Summary
Let's start this list with the Tacklife 500Wh Portable Power Station. This is a perfect example of a compact and affordable solar generator that's ideal for outdoor activities like camping.
You won't get heavy-duty usage out of this kind of solar generator, so powering something like a fridge is out of the question. However, charging up your phone or keeping your tent well-lit is not a problem at all.
Key Features
With the Tacklife 500Wh Portable Power Station, you get features like:
Quiet operation.
10W wireless phone charging.
2 AC outputs, 3 DC outputs, and even 4 USB ports.
Eco-friendly, unlike conventional generators that use gas.
Plenty of safety features like overload protection.
What I Like About It
There's plenty to love about this Tacklife 500Wh Portable Power Station. Firstly, it's compact and lightweight, which makes it very easy to transport to your destination. Once there, you'll have no problem carrying it around, especially as it weighs only about 15 pounds and comes with neat carrying handles.
Besides that, the abundance of power outputs is also another plus point for this model, especially the USB ports. Having four ports will make things very easy if you're traveling in a group because then people won't have to fight over who gets to charge their devices first. Don't forget, there's also the additional wireless phone charging ability as well.
What I Don't Like About It
Still, as impressive as it is, there are some drawbacks. For starters, this solar generator is too small for appliances rated over 300W. So, you can't use things like hair dryers or kettles with it. While that might not be a big deal for those using this unit recreationally, anyone needing a more powerful solar generator might prefer a different model.
Check out Amazon for the current price.
Jackery Explorer 240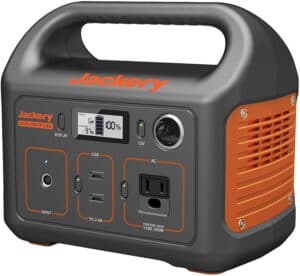 Summary
Next, we have a solar generator from another leading brand on the market: Jackery's Explore 240. This is another compact and portable solution for people who want a solar generator to use in the outdoors. It's lightweight, weighing in at only about 7 pounds. Simply put, this is an excellent entry-level solar generator for light and easy use.
The best part? You can recharge this unit in four different ways. So even if your solar panels aren't working for any reason, you can still make use of this generator by charging it in your car, a wall socket, or using another generator.
Key Features
Here are some of the notable features of the Jackery Explorer 240:
200 wattage output with a 240Wh lithium battery inside.
A pure sine wave AC outlet.
Two USB ports and a 12V carport.
Smart display that shows input and output power, as well as remaining battery power.
What I Like About It
Like the previous model, we love the Jackery Explorer 240 for being lightweight and easy to carry around. The smart display also makes it very easy to keep an eye on essential details like input/output and remaining battery storage.
As you'd expect, this solar generator will do an excellent job in charging your devices like smartphones and tablets, as well as power any small lights that you might take while camping.
What I Don't Like About It
Unfortunately, the Jackery Explorer 240 doesn't have that many power outlets. As a matter of fact, it only has a single AC outlet and only 2 USB ports which feels a little restrictive, especially if you're sharing it with other people.
Plus, just like other entry-level and compact solar generators, you won't be able to power any heavier appliances with this generator, which limits its usefulness as a backup power supply to use at home.
Check Amazon for the current price.
Maxoak Bluetti 1500Wh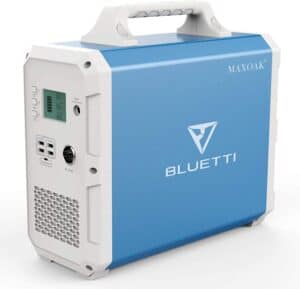 Summary
Suppose you're looking for a high-capacity solar generator. Then, the Maxoak Bluetti, with its impressive 1500Wh capacity, might be the solution to your problems. This solar generator is designed to work with some larger appliances like blenders, drills, and hair dryers up to a maximum wattage of 1,000W. 
All of that capacity does come at a 'price' though because the Maxoak Bluetti weighs about 37 pounds. That's not too heavy, but it's still a little challenging if you're going to have to lug it around to your destination.
Key Features
Here are some of the key features of the Maxoak Bluetti 1500Wh:
2 AC and 4 USB outputs.
High-load continuous 1,000W operation.
Aluminum alloy shell to reduce heat.
LCD screen so you can monitor the solar generator's status.
Built-in advanced control unit to regulate charging.
What I Like About It
One of the most important things we love about this solar generator is the fact that you can use it to power a more comprehensive range of appliances than most. Unlike many other generators on the market, this one can power any appliance up to a maximum of 1,000W. That includes things like power tools, which makes this solar generator very handy for people taking it to job sites.
Besides that, there's an abundance of power outlets, including two AC outlets and four USB outlets. So, whether you're charging smart devices or powering a drill, there's plenty of outlets for everyone.
What I Don't Like About It
Still, there are some areas where Maxoak could've improved upon this solar charger. For starters, it's pretty heavy at about 38 pounds. Even with the carrying handle, that's a lot of weight for someone to carry around to their destination, whether they're camping in the outdoors or carrying it around a construction site.
Besides that, this solar charger's exceptionally-high capacity also means that charging times will be very long. The Maxoak Bluetti will need approximately 10 hours to charge up with solar panels, which can be challenging if you're in an area that doesn't receive that much sunlight, to begin with.
There is a silver lining, though. If there's not enough sun, you could always use a wall socket or a car power socket to charge the generator the rest of the way!